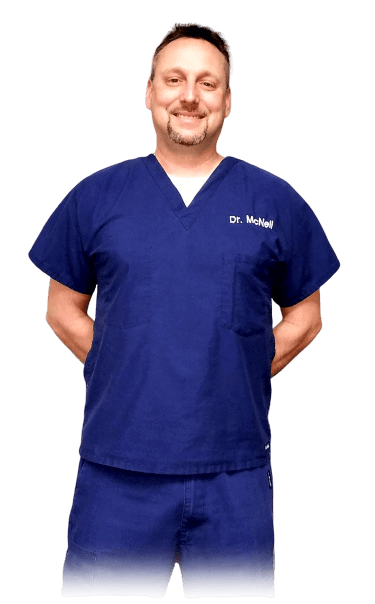 Bryan McNeil, D.C., a dedicated chiropractor is the proud owner of McNeil Chiropractic! Born and raised in Louisville's Old Louisville neighborhood, Bryan's journey into the chiropractic field was deeply influenced by his upbringing. Growing up, he and his siblings received regular chiropractic care under the guidance of their natural and holistic-minded mother, who believed in its ability to promote overall wellness.
Bryan pursued higher education at the University of Louisville, Michigan State University, and Life University, obtaining a Bachelor of Science degree, a massage therapy degree, and a Doctor of Chiropractic degree. After practicing massage therapy for several years, Bryan's interest in chiropractic care was sparked by his own chiropractor, leading him to embark on a new path. He earned his DC diploma in 2010 and hasn't looked back since.
As a chiropractor, Bryan finds immense joy and fulfillment in his work. His favorite aspects of the profession include witnessing the positive reactions of patients after receiving their first chiropractic adjustment, helping patients understand the long-term benefits of regular chiropractic care, and caring for infants through adjustments. The fact that patients continue to seek his care even when they feel great reaffirms Bryan's passion for chiropractic and its impact on people's lives.
In his pursuit of excellence, Bryan has taken extra training to specialize in pediatric care and full-term pregnancy care. He is deeply passionate about these areas, as he believes that early detection and correction of spinal misalignments or "subluxations" can prevent potential issues later in life.
Outside of work, Bryan's focus turns to his cherished family. He enjoys spending quality time with his wife Amy, their three wonderful daughters, a fantastic son, and three adored grand babies. When Bryan and Amy need a break, they indulge in laughter at comedy shows, revel in the energy of rock concerts, and savor the joys of camping.